Since I (FINALLY) learned how to upload pictures to the blog the other day, I decided to purpose to take & add more pictures. We'll see how that goes….best laid plans and all.
So for my picture debut (unfortunately my pics will not be the artistic quality that you are by now used to from Ryan): Rain boots. From what i've gathered, they are to Washingtonians as flip flops are to Floridians. I kept meaning to get rain boots while in florida (but never found any small enough), but since the storms were usually short lived & the weather hot, the ground wasn't actually wet all that often…and since it was hot, flip flops worked just as well as boots would. Here however it's just kind of damp a lot…and when it does rain, it lingers awhile and isn't violent enough to keep people out of it. In fact I've noticed people seem downright unaffected when it starts to rain…out walking dogs & to the bus stop…sans umbrellas. There has been a decided lack of umbrellas altogether from what I can tell. Guess it's hard to get stuff done trying to tote those around. So rain boots & jackets it is. Next we'll have to shop for some raincoats…
Both children 100% picked out their own boots with no input from me. I prepared my ego for the reality that I would probably have to buy spiderman boots. However, Asher with no hesitation chose these rather hip-looking pair (I promise until he was 100% satisfied w/his choice i maintained a neutral expression & said nothing).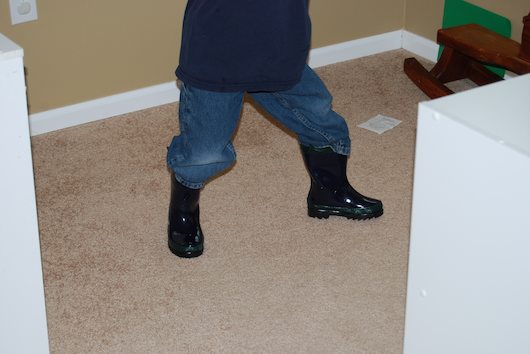 Grace not so much but I've come to expect nothing less and I love her choice too. They are cool in a different way.

It was a fun experiment in personality. She calls them her, "witty tat doots"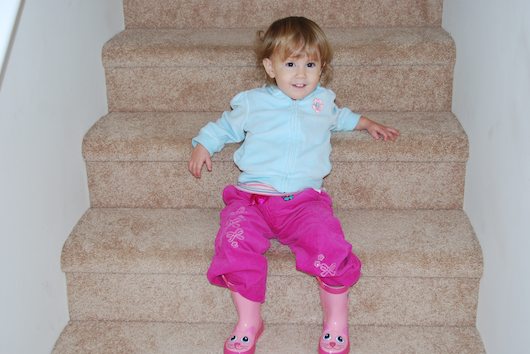 Me? Well…I'm my daughter's mother. I couldn't decide between lady bugs & flowers. Grace made the final decision for me. Admittedly I saw a woman wearing these at the Farm last weekend & really liked them.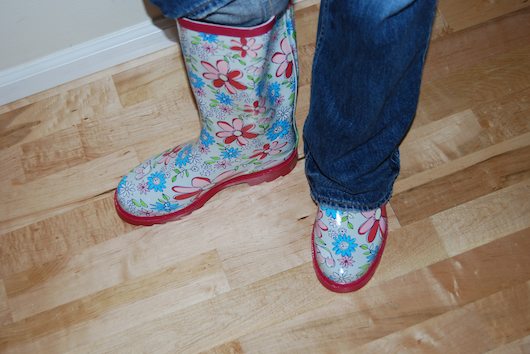 Now i feel like a local.