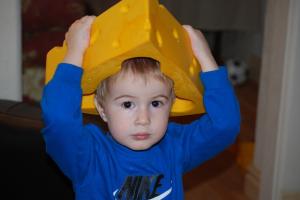 So today we've let asher skip naptime. Grace is down, ryan went to run an errand & I needed to spend some time here looking for a good deal on cod liver oil (vitaminshoppe.com always wins, yet still i look everytime).
While I was finishing up paying for my order asher (who is coloring at the dining room table) asks if I will come watch him color. I oblige & as I walk over he says, "hey, mom, look, I'm coloring a beautiful picture for you."
It has lots of pink & brown. I tell him I love pink & that brown is my favorite color. Then the exchange below:
Asher – It is?? That's MY favorite color too!
Me- It is? I thought it was green. (it has been green for a few months anyhow)
Asher – Oh..yeah..well, now it's brown. It was green, but the green bay packers losed so now it's brown.
Me – Oh, cool, we have the same favorite color! And the green bay packers lost, not losed.