For those of you who follow my blogging you know that I have a thing about coffee travel mugs. In two years I have yet to find the perfect one. Well, in my continual quest for one I like I picked up this mug the other day.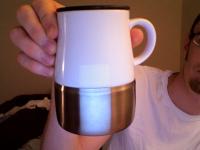 click image to enlarge
Recently I was asked by the good people at rightminds to participate in an informal focus group on a coffee maker. In return for my participation I was given a gift card to starbuks and, since I don't like starbucks coffee, I decided to pick up a new travel mug.
The mug itself came highly recommended by my good friend Robert who seems to carry his everywhere. So, when I saw this one in the clearance section… probably due to the lame design, I picked it up… So, is this the perfect mug???
Well, here's the deal.
Goods:
It has a porcelain inside, which I like. The downside of the metal travel mugs is that the start to have a funky stale coffee taste after a month or so. Porcelain is much less porous and thus doesn't absorb the coffee as easily. So, that is nice.
It is dishwasher safe… Big points for that one.
The lid seems to be really sung, but at the same time it isn't hard to get on or off (unlike my current metal mug)
It feels good in my hand
The metal bottom is an interesting attempt to increase insulation… not sure how great it works, but an interesting idea none the less.
Finally, minus the stupid "coffee" design on the front, it looks pretty good.
Bads:
Heat retention… Ok, the mug gets really hot which means heat is leaving the coffee… so, that is sad. I'd estimate that the coffee would stay hot for 10 minutes and warm for about 30 minutes. On the upside of this, the mug only holds 14oz, so the odds of it lasting more than 30 min is not too likely.
Stupid "coffee" design
Haven't tested in the car yet, but non-closing drink hole can't be very spill friendly… but I'll let you know
So, in conclusion, it isn't too bad. Until something better comes along, I think this might be the mug of choice.