I'm beating ryan to photo friday this week. You snooze you lose buddy. (click images to enlarge)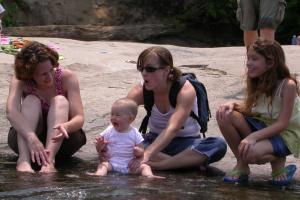 in this picture: Shelly, Jenn, Grace, Mikayla
This week some friends from Statesboro Ga stopped by to visit for a few days on their way up to NY. They have 3 kids (12, 8 & 7). It was really great fun. Catching up with old friends, watching the kids play, eating good food….
On Tuesday we went to Belle Isle for a picnic & discovered that people swim in the river there. How we've lived here for nearly 4 years & not been aware, I have no idea. There's even a spot that has a bit of a "water slide" in the rocks. Very cool. We were unprepared for water fun, so no one had a bathing suit, but that of course did not stop the kids.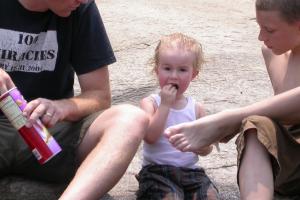 Asher ate at least a half a can by himself that day (yikes).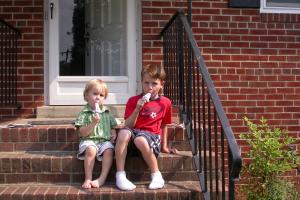 Asher & Elijah eating some popsicles