Ok, so we've been really bad about taking pictures of the kids… I chalk it up to the fact that I want a new camera. So, if you want
more pics of the kids, feel free to donate THIS or THIS to the burns family.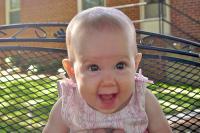 Today I did manage to go out and shoot a few pics in the yard. You can view them all HERE in my flickr album. I posted them there in case any of the grandparents wanted to order some.