I'm going to be lazy & throw unrelated recent pictures into one post.
The kids "helping" me clean up after helping make pizza dough earlier this week (they splashed in the sink while i got everything cleaned up & put away).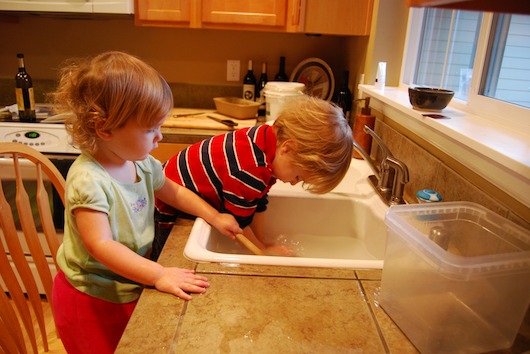 Asher "reading" to Grace.  He does this almost every morning while I clean up breakfast.  He's actually been learning to read lately & this week i overheard him ACTUALLY reading "hop on pop" to her (sounding out the words he knows how to figure out..which were more than i expected).  Super cute.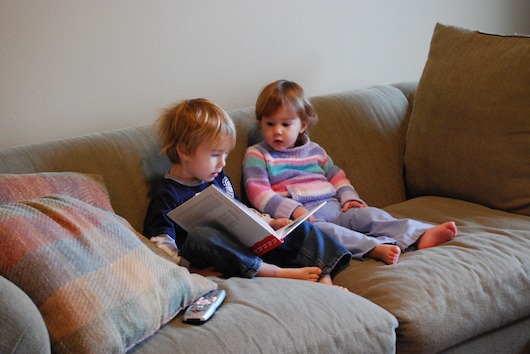 Same day, that evening, the kids vegging while i get dinner going.  This is Grace's recent "tv position".  Then band aid was leftover from naptime, she has to wear it while sleeping as she scrapes her nose while sucking her thumb.  Regardless of how short i cut her nails.  annoying.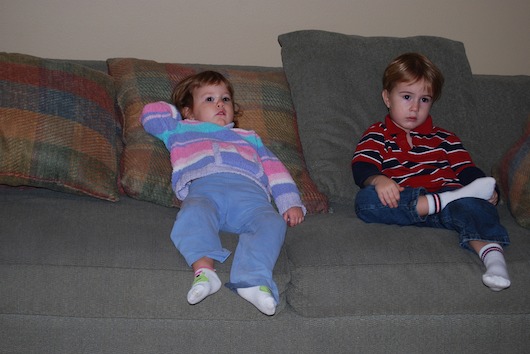 and finally a pic of the kids playing together while we were babysitting the Pell boys (Luke (older) & Jack).  They had lots of fun.  My kids whined awhile this morning when they realized they weren't still here.  :)  Unfortunately this was the best shot I was able to get.