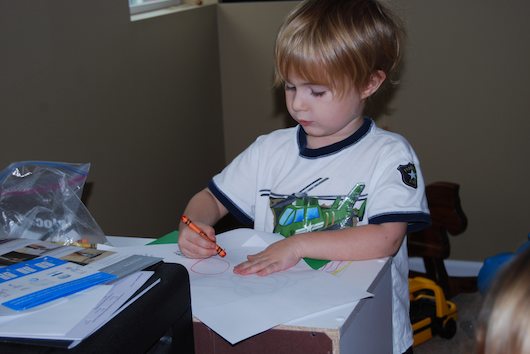 This morning I needed to make a short grocery list.  I reached into the recycling bin (well…bag) and pulled out Asher's tracer sheet from yesterday.  He is on a major drawing kick and wants to throw nothing away, so when he's not looking I have to carefully put his papers in the recycling bin, under other stuff. I feel kinda bad, but we can't keep that many sheets around!   Anyhow, the piece i tore off still had a bit of "evidence" and Asher saw it.  he knew exactly which paper it was and was totally heartbroken.  No tears yet, but I could tell he was sad, so I explained a bit, apologized and then moved on.  Turned around & he was quiet but had tears streaming down his cheeks.
This of course caused me to cry & we sat in a wet heap on the kitchen floor for a few minutes.  I again explained that we just couldn't keep ALL of his drawings, but I would start a folder for ones he deemed "extra special".  He sighed & grabbed my hair & proceeded to wipe off his tears with it.
I was struck by the image of Luke 7:38 when the sinful woman washed Jesus' feet with her tears.  So then we got to have a fun little talk about that story (it is in his bible book).
Grace was still eating her breakfast at the table & seemed not to have noticed the entire exchange.  …btw, she still loves the boots.